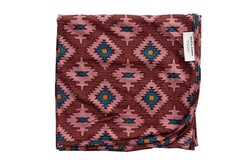 Our swaddles come with sleepy dust. 

Features:
- Stretchy fabric provides ultimate comfort for baby
- Multifunctional size makes a great car seat and nursing cover
- Ethically cut & sewn in Los Angeles, California
Size:
38" x 38"
Print:
Multicolored southwestern print on a brick background
Fabric:
Buttery soft, breathable, and oh so snuggly
92% rayon, 8% spandex

Care:
Machine wash, cold, gentle cycle. Wash separately. Do not bleach. Lay flat to dry.